I know some are kind of turned off by the idea of another POTC, but after seeing these photos hopefully the tides will change.
USA Today
debuted new photos, including a first look at
Penélope Cruz
. "What's most interesting about
Pirates 4
is you
don't
have to connect the dots for these subplots and sub-characters," Depp told the paper. "It felt like a fresh,
clean slate
." This definitely seems like it might be a very strong return to form.
That's exactly what I'm hoping for.

And for those who don't know, they are continuing the very successful POTC series by adding a 5th and 6th installment.
HitFix
reports Disney has been quietly telling cast and crew to save a big chunk of their time in the near future to shoot the sequels.
This isn't surprising since the second and third sequels were filmed in the same fashion, but honestly, I thought the latter sequels suffered the same lack of substance as the
Matrix
sequels did.

There are two fantastic articles about
On Stranger Tides
to go along with these - read them
here
and
here
.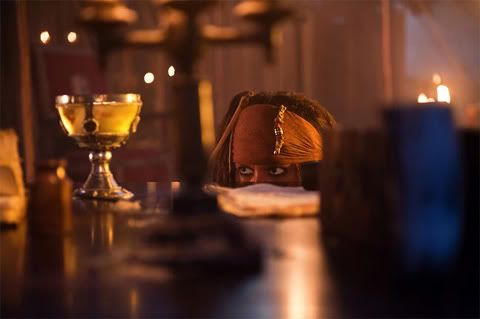 Pirates of the Caribbean: On Stranger Tides
stars Johnny Depp as Jack Sparrow again as well as Penélope Cruz, Ian McShane as Blackbeard, Geoffrey Rush and Astrid Berges-Frisbey as a mermaid. "These mermaids are ferocious," Bruckheimer explains. "On the surface they're beautiful, but once you get them underwater, they turn pretty scary." That sounds like a lot of fun! The story was based on Tim Powers' book, which focuses heavily on the "Fountain of Youth" that was hinted at the end of At World's End. Chicago & Nine director Rob Marshall is helming this fourth Pirates of the Caribbean film and has been directing at various locations the last few months. This is supposedly being shot in 3D. If that's the case I'm definitely going to shell out a few more bucks to see that. This movie will hit theaters on
May 20th, 2011 next summer
.